Welcome to our 2023 Holiday Gift Guide, where we believe that in life, details matter. If you're someone who appreciates the little things and seeks to make every moment special, then you've come to the right place. This curated list is designed specifically for women who share this mantra, and it's packed with unique and thoughtful gift ideas that will make their lives a little sweeter. We've scoured the market to bring you thoughtful treasures for the Enterpreneur, Traveler, or Homebody in your life. So, let's dive in and discover the perfect gifts that will leave a lasting impression this holiday season.
For the Entrepreneur
Affirmation Card deck by Live Deeply is the perfect gift for the woman business owner in your life for several reasons. Firstly, as a business owner, she faces a lot of stress and uncertainty, and these cards can help her stay motivated and focused. Secondly, the affirmations in the deck are designed to inspire confidence and self-belief, two qualities that are essential for success in any field. Finally, the deck is beautifully designed and comes in a stylish box, making it a thoughtful and meaningful gift that your friend will cherish for years to come. Live Deeply $34.00
The Burgon & Ball Steel Watering Can is the perfect gift for the woman entrepreneur. With its sleek and stylish design, this watering can not only serves as a functional gardening tool but also adds a touch of elegance to any space. Made from durable steel, it ensures long-lasting performance, making it a practical choice for the busy woman who wants to maintain her indoor plants effortlessly and with style. Amazon $20.00
If you're looking for the perfect gift for a woman business owner in your life, look no further than the Scentered Survival Kit available. Running a business can be stressful, and this survival kit is designed to provide a moment of relaxation and rejuvenation amidst the chaos. Packed with carefully curated essential oil blends and a portable balm, this kit offers a convenient way to find balance and focus throughout the day. Whether it's a quick moment of mindfulness during a meeting or a calming ritual before an important presentation, the Scentered Survival Kit is a thoughtful gift that will support the well-being and success of any woman entrepreneur. Amazon $80.00
If you're a woman entrepreneur constantly on the move, it's likely you don't have the luxury of spending hours at a nail salon, so the Onsen Nail Kit on Amazon is the perfect gift. This kit provides everything you need to achieve beautiful natural nails in the comfort of your own home or on the go. With its convenient and portable design, you can easily maintain your nails wherever you are. Say goodbye to chipped polish and hello to long-lasting, salon-quality natural nails. It's a must-have for any busy woman looking to stay polished and professional without compromising her precious time. Amazon $36
The BEIS Work Tote is the perfect gift for an entrepreneur for several reasons. Firstly, it is a highly functional and versatile bag that can accommodate all their essential items, including a laptop, notebooks, and documents. The bag is designed with multiple compartments and pockets, allowing for efficient organization and easy access to belongings. Additionally, the bag is made from durable materials, ensuring it can withstand the demands of a busy entrepreneur's lifestyle.
Its sleek and professional design also makes it suitable for any business setting. Lastly, the BEIS Work Tote exudes sophistication and style, making it a statement accessory that any entrepreneur would be proud to carry. Beis $128.00
For the Traveler
The Bensen toiletry kit by State is a fantastic gift choice, particularly in the navy and neon color block style. This kit combines style and functionality, making it a perfect companion for any traveler. The navy and neon color block design adds a trendy and vibrant touch to the kit. It features a spacious main compartment with multiple pockets and compartments to keep all toiletries organized.
The durable construction ensures long-lasting use, while the compact size makes it convenient for travel. Whether for a frequent traveler or someone who enjoys staying organized, the Bensen toiletry kit is a thoughtful and practical gift option. State $65.00
Have you ever tried to sleep on a flight while experiencing the ice-cold floor of an airplane? Cold feet and sleep don't go together, so when it comes to finding the perfect gift for a traveler, comfort and warmth are key. That's why Bombas slipper socks are an ideal choice. These socks are designed with the traveler in mind, ensuring maximum comfort and warmth during long flights. The plush, cozy material keeps your feet snug and warm, allowing you to relax and unwind while in transit. With their durable construction and non-slip grips, Bombas slippers provide both comfort and safety. Bombas $45.00
The newest Amazon Kindle makes a perfect gift for a traveler due to its exceptional features and convenience. With its portability and lightweight design, the Kindle allows travelers to carry their entire library with them wherever they go. It provides access to a vast collection of books, including library books, making it a great companion during long flights or train rides.
The adjustable font size and dark mode feature ensure a comfortable reading experience, even in low-light conditions. Its waterproofing capability adds an extra layer of durability, making it suitable for beach vacations or rainy destinations. Moreover, the ability to annotate and highlight passages allows travelers to easily save and reference important information. Overall, the newest Amazon Kindle is a thoughtful and practical gift for any avid reader on the move. Amazon $99.00
The Sony WH1000-XM5 noise-canceling headphones make an excellent gift for travelers for several reasons. First, they provide superior noise cancellation technology, allowing users to block out distracting sounds and focus on their music or movies. They are also wireless, making them convenient to use on the go without worrying about tangled cords. Additionally, their long battery life ensures they can last through even the longest flights or train rides. Finally, their compact and foldable design makes them easy to pack and take with you on any adventure. . Amazon $398.00
The Pocket Pharmacy (Mindful Edition) by Sage is the ideal gift for any traveler seeking a holistic approach to wellness on the go. This compact and portable kit contains a carefully curated selection of essential oils, each chosen for their unique therapeutic properties. From lavender for relaxation to peppermint for digestion, these oils provide natural remedies for common travel ailments.
With its thoughtful design and practicality, the Pocket Pharmacy (Mindful Edition) is a must-have for travelers who prioritize self-care and want to enhance their travel experience. Sage Wellness $68.00
When it comes to finding the perfect gift for a traveler, the Birdie+ pocket alarm stands out as a practical and indispensable choice. The Birdie+ easily fits into your bag or pocket providing peace of mind and security to travelers on their journeys. Whether it's exploring unfamiliar streets or venturing into remote areas, this versatile gadget ensures that your loved ones are prepared for any situation that may arise. Give the gift of safety and convenience with the Birdie+ pocket alarm! From She's Birdie $39.95, this version is not yet available on Amazon.
For the Homebody
The Calicle insulated ice cream bowl is the ultimate gift for the ice cream enthusiast who loves to indulge in every icy spoonful without any meltdown! This ingenious bowl is like a personal Arctic oasis, keeping your favorite frozen treats perfectly chilled for hours on end. Made with a double-walled design and infused with cooling gel, it ensures that your ice cream or gelato stays delightfully frosty, no matter how long you take to savor it. This is a must-have for any homebody seeking frozen dessert bliss. Amazon $49.98
If you're looking for the perfect gift for the homebody in your life who loves cooking and all things floral, then look no further than the Rifle Paper Co x Hedley Bennet apron. This delightful collaboration brings together two renowned brands known for their creativity and attention to detail. The apron features Rifle Paper Co's signature vibrant floral prints, making it a feast for the eyes.
With its adjustable neck strap and durable cotton fabric, this apron is designed to withstand the messiest of cooking adventures. Whether they're baking a batch of cookies or whipping up a gourmet meal, this apron will keep them stylish and clean. It's a gift that combines fashion and functionality, making it a truly thoughtful choice for the homebody who loves cooking and flowers. Anthropologie $115.00
It's red wine season, so why not uplevel the sipping experience of your favorite homebody with the Wine Glass Sets by Made In? There's nothing quite like enjoying a glass of fine wine in a beautifully crafted vessel, and these wine glasses are designed to enhance the aromas and flavors of every sip. Made In's Wine Glass Sets are the perfect gift for the homebody who enjoys indulging in a cozy night at home. With their elegant design and impeccable craftsmanship, these glasses add a touch of sophistication to any wine-drinking experience. Made In $99.00
If you're searching for the perfect gift for the homebody in your life, look no further than the Meditation Mod Cushion & Zabuton from Pottery Barn. With the increasing amount of time spent at home, now is the ideal opportunity to explore the art of meditation. This beautifully crafted cushion and zabuton set provides the ultimate comfort and support for those seeking a peaceful and serene meditation experience. Its plush design and high-quality materials make it an excellent addition to any home, creating a dedicated space for relaxation and self-reflection. Pottery Barn $249.00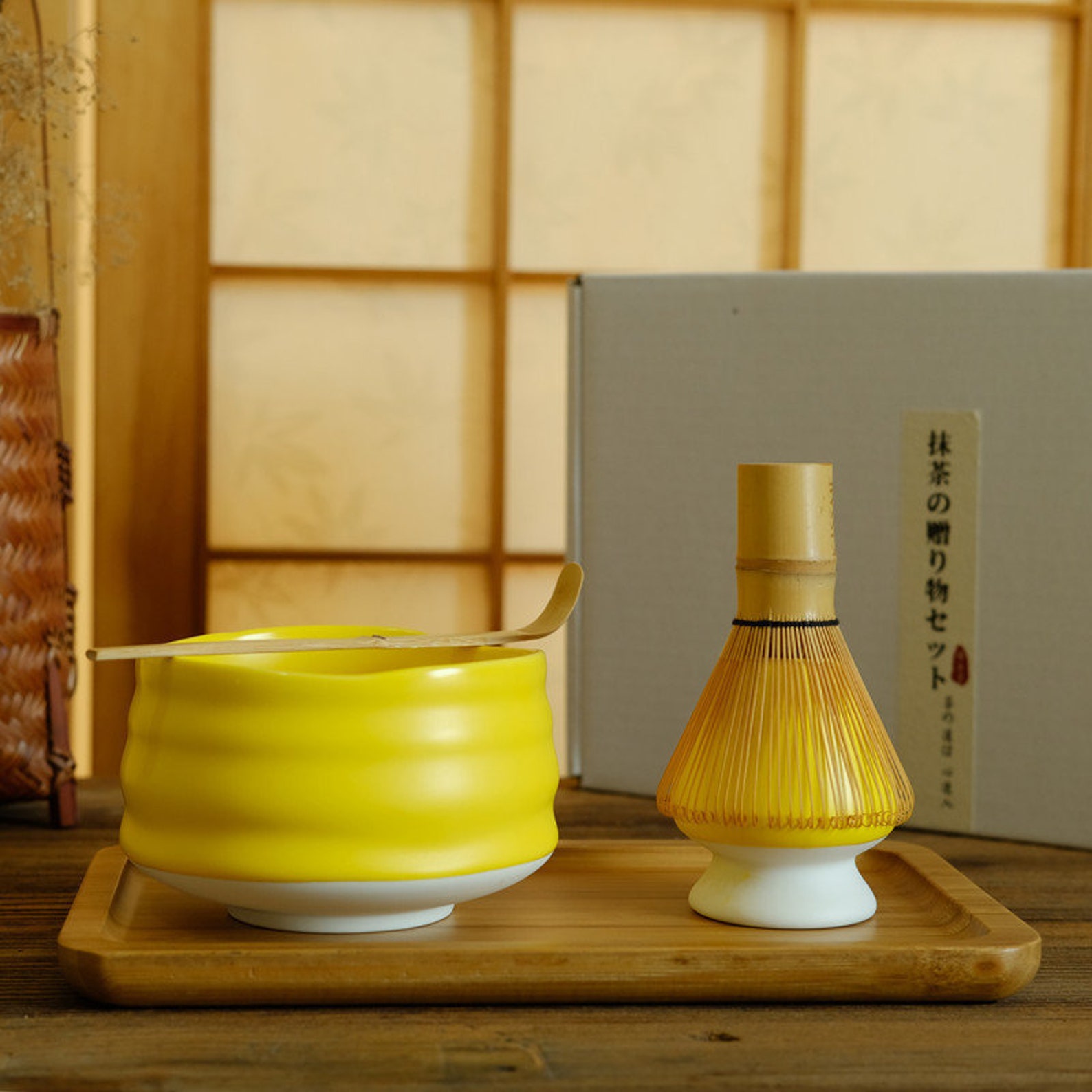 If you're looking for the perfect gift for the homebody in your life, this handmade matcha tea set from Etsy is an excellent choice. Not only does it offer a unique and personal touch, but it also provides a delightful ritual that can be enjoyed in the comfort of one's own home. The art of preparing matcha tea involves a series of precise steps, from measuring and whisking the vibrant green tea powder to creating a frothy and velvety beverage. This meditative process can be truly therapeutic, allowing your recipient to unwind, relax, and embrace a moment of tranquility. Etsy $39.50
As I wrap up my holiday gift guide selection, I can't help but reflect on how my surroundings are important to me. Having beautiful things around me makes me happy and I wanted to extend that joy to those on my gift list. Each gift was carefully curated based on quality and attention to detail. I hope that these gifts bring the same happiness and joy to your loved ones as they will to mine. Happy holidays!
About Angela Acosta & the Atelier
Based in New Jersey, Angela Acosta specializes in personal branding and portrait photography for women business owners and professionals in New York and the tri-state area. She expertly channels brand narratives through tailored images, offering insights on wardrobe and styling to ensure authenticity. With a deep commitment to capturing the essence of each client, Angela transforms branding with impactful photographs that resonate and inspire. Contact us to schedule your complimentary consultation.